Building materials that may be disturbed as part of a planned renovation must be inspected for the presence of asbestos prior to the renovation. ALIS can perform building inspections and full surveys to determine the presence, location and quantity of asbestos in
building materials. Once the asbestos hazards are located and their condition assessed, we can present a comprehensive report of findings that includes sample results, locations, quantities and conditions and cost estimates for abatement. We can offer assistance with remediation options and associated cost effectiveness. Remediation options include encapsulation, enclosure, operations and maintenance, repair and removal.
Asbestos In Your Home
WHAT IS ASBESTOS? Asbestos is the name given to a naturally occurring group of minerals composed of tiny, easily inhaled fibers.
HEALTH CONCERNS? Asbestos fibers can cause serious health problems. When asbestos gets in the air, breathing the fibers can lead to an increased risk of (1) lung cancer; (2) cancer of the lining of the chest or abdominal cavity (mesothelioma); and (3) scarring of the lung tissue (asbestosis).
WHERE IS IT FOUND? Many types of building products and insulation materials used in homes before the mid-1980s contained asbestos. Common products that might contain asbestos include:


STEAM PIPES, BOILERS, and FURNACE DUCTS insulated with an asbestos blanket or asbestos paper tape. The materials may release asbestos fibers if damaged, repaired, or removed improperly.

CEMENT SHEET, MILLBOARD, and PAPER used as insulation around furnaces and wood-burning stoves. Removing appliances may release asbestos fibers. So may cutting, tearing, sanding, drilling, or sawing insulation.


DOOR GASKETS in furnaces, wood stoves, and coal stoves.
SOUNDPROOFING OR DECORATIVE MATERIAL sprayed on walls and ceilings. Loose, crumbly, or water-damaged material may release fibers. So will sanding, drilling, or scrapping the material.
PATCHING AND JOINT COMPOUNDS for walls and ceilings, and TEXTURED PAINTS. Sanding, scraping, or drilling these surfaces may release asbestos.


ASBESTOS CEMENT ROOFING, SHINGLES, and SIDING. Do not saw, drill, or cut these materials.
RESILIENT FLOOR TILES (vinyl asbestos, asphalt, and rubber), the backing on VINYL SHEET FLOORING, and ADHESIVES used for installing floor tiles. Sanding tiles can release fibers. So may scraping or sanding the backing of sheet flooring during removal.


Operation and Maintenance Program (O&M)
An Operations and Maintenance (O&M) Program can be implemented for the building, to address the presence of known asbestos-containing material (ACM). A properly implemented O&M Program helps prevent the potential release of asbestos fibers by minimizing and controlling ACM disturbance.
The goal of an O&M program is to minimize the release of airborne asbestos fibers and surface contamination generated as a result of improperly performed work activities, accidental disturbances or natural deterioration of asbestos-containing building materials (ACBM) within the facility. The release of asbestos fibers increases the risk of asbestos exposure. An O&M program can inform maintenance personnel and contractors of the specific locations of asbestos, establish a periodic observation program for changes in the materials conditions and facilitate response for removal, clean up or repair of damaged areas.

Air Sampling/Testing/Monitoring
Project Monitoring and On-Site Analysis
Our Project Monitoring services include observation and documentation of the activities by an asbestos abatement contractor. Observe proper credentials, monitor their work practices, ensure compliance with all federal, state and local regulations and contract specifications, collect and analyze environmental air samples during the abatement project and grant final clearance upon satisfactory completion of the project. PCM analysis on air samples can be performed on-site for immediate results. The primary obligation of the Industrial Hygienist during an abatement project is to the public.

Air Sampling and Testing
Workplace air sampling services on a monthly, quarterly or semi-annual schedule is provided for a wide range of environments; offices, commercial buildings and manufacturing facilities. This sampling plan is ideal for owners of buildings where asbestos is present and an O&M program is in place. Periodic air sampling in these types of situations in addition to a visual assessment of existing ACM can alert the building owner to otherwise undetected exposure to building occupants.

Employee Exposure Sampling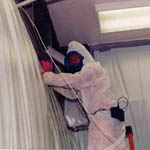 Employers who have a workplace or operation where exposure monitoring is required under the OSHA Standard CFR 1926.1101 for construction, must perform monitoring to determine the airborne concentrations of asbestos to which employees may be exposed. We can conduct Initial Exposure Assessments prior to the start of an abatement which will determine the level of respiratory protection for the employees and /or collect air samples for ongoing employee exposure monitoring during a project.